A few more questions and answers
"Who questions much, shall learn much, and retain much." – Francis Bacon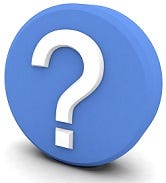 ---
Q. Should I buy Wells Fargo shares right before it goes ex-dividend?
A. No. When a stock pays a dividend, the share price is lowered on the ex-dividend date to reflect the upcoming dividend payment. For example, if we assume a $100 stock that pays a quarterly $1 dividend ($4/yr = 4% dividend yield), and you were to buy the stock the day before it went ex-dividend, the stock price would open $1 lower at $99 on the ex-dividend date to account for the upcoming dividend payment. That dividend is probably taxable, so you would be getting $1 of your own money back with a tax liability attached to it. I know there are some brokers that push this strategy of buying stocks right before they go ex-dividend as an income method, but I am not a believer. As far as I can tell, you are just getting a small portion of your own money immediately returned to you with a dividend tax liability attached to it, which seems like a bad idea. I would rather buy the shares after the ex-dividend date than before it.
Also, in the case of our Wells Fargo recommendation, we are not buying it just for the dividend. The company is buying back approximately 11% of its shares annually in addition to the 4.3% dividend. We recommend timing your share purchases during periods of stock weakness. We expect the recovery in Wells Fargo will take a few years as we explained in our original post.
---
Q. Per your KMF Kayne Anderson Midstream/Energy Fund recommendation and understanding that you cannot give tax advice, can you make a general statement about the tax characterization of the KMF distributions?
A. Sure. Let me start by saying that you are correct — I cannot give tax advice. Do your own tax analysis or check with a CPA or enrolled agent regarding your tax liability for distributions. However, I will provide a general explanation based on my understanding of the information KMF published. KMF issues a 1099-DIV, not a K-1. According to them, the "distributions are treated as a taxable dividend (qualified dividends) to our common stockholders to the extent of our current and accumulated earnings and profits." In 2019, KMF estimates that 100% of the distributions are nondividend distributions (Return of Capital), which means there should not be any taxes owed. Instead, return of capital distributions lower your cost basis. For 2020, KMF estimates that 90% of distributions will be nondividend return of capital and 10% will be qualified dividends. This is only an estimate and it could change. At tax time you will receive a 1099-DIV with the breakdown of the distributions.
I'll add that KMF shares still look attractive. The closed-end fund trades at a -13.65% discount to its net asset value and it pays an 8.95% distribution yield. Obviously energy stocks and MLPs remain out of favor with investors and the recent coronavirus scare has added to the list of challenges. However, for investors with a very high risk tolerance, we think the KMF shares are attractive for purchase. The next scheduled monthly KMF distribution has an ex-date of Feb 19, a record date of Feb 20, and a payment date Feb 28.