"A bank is a place that will lend you money if you can prove that you don't need it." – Bob Hope
Wells Fargo offers an attractive 15% shareholder yield.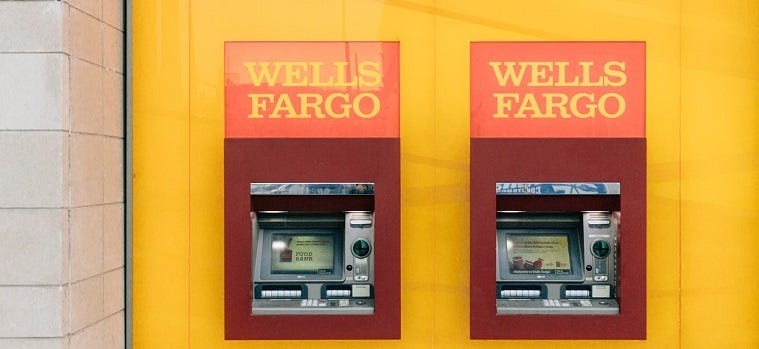 What is the first thing that comes to mind when you hear the name Wells Fargo?
Scandal? Fraud? Fake Accounts? Probably some combination of these. Wells Fargo management made some terrible mistakes over the past several years and the stock has suffered. Wells Fargo's stock price (Symbol: WFC) has fallen nearly 30% over the last two years while the stock market and financial stocks have rallied. Today Wells Fargo stock trades around the same price as it did in early 2014, nearly six years ago.
We believe the time is right to invest in Wells Fargo again. In our opinion, the storm surrounding Wells Fargo's poor management practices is subsiding. On the bright side, most of Wells Fargo's customers have remained with the bank despite its problems. The new CEO Charles Scharf is determined to fix the management problems, settle litigation, and repair the bank's relationship with regulators.
The most appealing metric we see at Wells Fargo is the shareholder yield. If we look at Wells Fargo's latest capital return plan (dividends and share buybacks), we see that Wells Fargo offers a 15% shareholder yield. This shareholder yield includes a 4.2% dividend yield and a $23 billion share buyback program that will reduce the total number of shares by more than 11%. Wells Fargo is well capitalized and should be able to maintain a generous capital return plan for the foreseeable future.
Once Wells Fargo settles remaining litigation and makes the necessary investments to satisfy regulators, the company plans to reduce expenses. While this is going to take some time to play out, investors will be compensated to wait. Wells Fargo pays a $0.51 quarterly dividend ($2.04/yr) and the ongoing share repurchases should support the stock in the mid $40s. We think the stock is attractive for purchase in the mid-$40s.
Wells Fargo is operating under a $1.95 trillion asset cap imposed by the Federal Reserve for its past sins. CEO Scharf has not hinted at when the asset cap might be removed, but we think it could be lifted by the end of 2021. In the meantime, the asset cap is allowing the bank to focus on improving the quality of its loan book. Wells Fargo remains the #1 mortgage originator in the United States.
In summary, here are the actions and outcomes we see moving forward:
Settlement of remaining regulatory & legal items == clarity on liabilities.

Expense reduction plan == lower costs, higher profits.

Termination of asset cap == return to growth.

Sentiment shift == analyst ratings get more favorable.

Shareholder yield == 15% per year to wait.
We think Wells Fargo presents an attractive opportunity for patient investors willing to endure the near-term challenges, for long term gains. If management executes its plan we should see earnings per share increase to more than $6 per share in 2021, which could lift the share price into the $60s. We are also likely to see the dividend increase.
Note: We recommend that individual stock positions are limited to 4% of your overall portfolio in order to avoid specific company risk. Wells Fargo is scheduled to go ex-dividend on February 6th 2020 with a payment date of March 1st 2020.